Steamers Mode: What is it?
The Steamers User Mode is a hybrid of FormGenie's originally calculated ratings available to Day Pass and Annual Subscribers (Bronze, Silver and Gold) along with FormGenie-Bot users. Steamers improves our strike rate of Top Rated and Dutch rated selections. It also means you can avoid backing COLD horses. Thus increasing profit with less wasted arrows.
How it works: The original exported FormGenie-ratings have been manipulated by an algorithm based on overnight market activity. Key bookmaker odds are monitored from 8.30 the night before until 10.45 GMT the day of racing. Then according to market support (or lack of it), the FormGenie ratings are adjusted and a new set of ratings is seamlessly released to qualifying members at 11-00 GMT. This means that the ranking of all FormGenie rated horses is subject to change in accordance with this exclusive Steamer algorithm. Therefore all runners have the potential to be ranked differently. So it could easily be the case that last night's 3rd rated could now be the new Top Rated because it has been very well supported overnight/early morning. Conversely, the original Top Rated my have been weak in the markets and could be downgraded accordingly. The Steamer algorithm means we actually have an even better strike rate for Top and Dutch selections than the home page, bot profit and 365 day reports show. This information is extremely sensitve and thus kept out of the public domain. This means only members have access to this info.
Steamers are available from 11-00 GMT (that's Noon in the summer)
When in Steamers User Mode the Steamer Class indicator that informs you of the change in position from the original calculations as per the image below. You will see that "EARLY SUMMER" has been upgraded from being the originally exported 2nd Rated to the new Top Rated indicated by (2 ->1).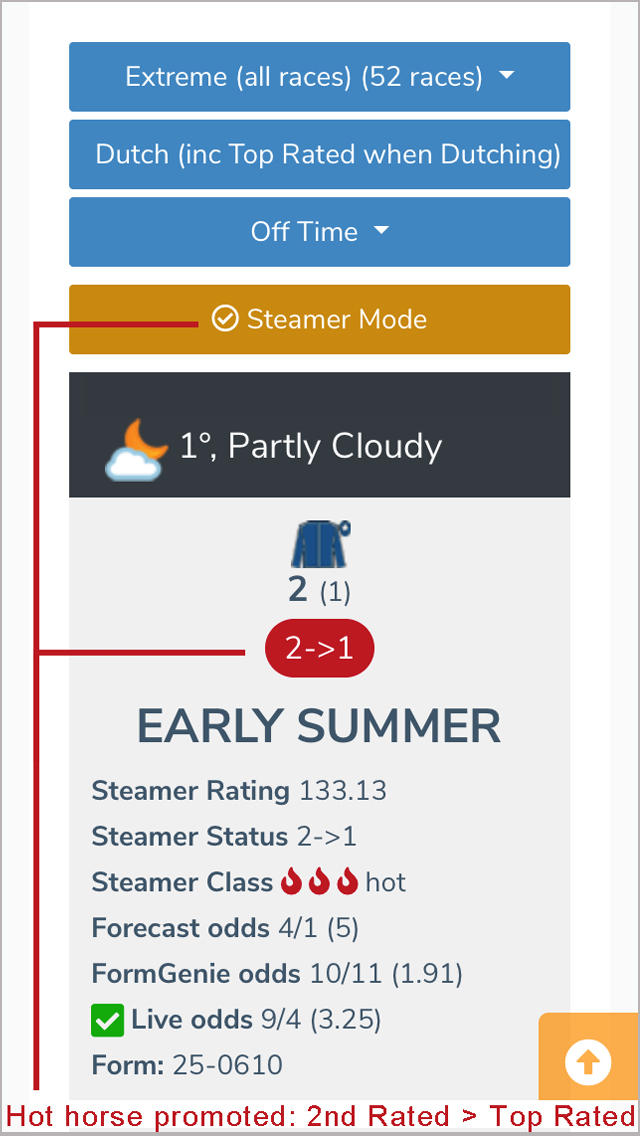 Be aware when using the Steamers User Mode that:
1: The home page reports on FormGenie "Regular" ratings. As such the results will NOT match those of the "Steamers" selections.
2: Steamer ratings are only available from 11.00 GMT (Noon in summer) day of racing.
3: Whilst over the long term the strike rate of the adjusted "Steamer" ratings is even better than "Regular Ratings" you may encounter scenarios where you wished you'd used the regular ratings. Drifting horses can still win, but over the long term it will pay to combine your betting with both our quality ratings and significant market signals using Steamers Mode.
4: FormGenie-Bot users can also elect to use Steamer ratings. This increases the Strike Rate of the top two significantly.